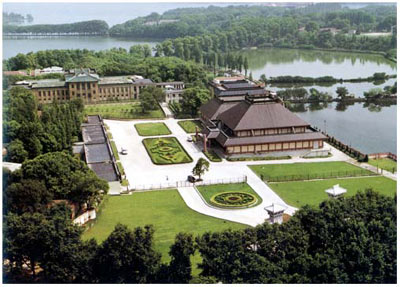 Located on the East Lake, Hubei Museum is one of the best-known museums in China, treasuring up numerous State-level historic and cultural relics.
The Chime Bells Hall in it displays mainly the relics unearthed from Zenghouyi Tomb.
In 1978, 15,000 articles were excavated from the Zenghouyi Tomb in Suizhou, including bronze ritual vessels and weapons, horses and carts, articles made of bamboo, lacquer, gold, jade, bamboo tubes, coffins, and musical instruments.
Exhibited in this hall are very rare items such as the chime bells, the crane standing on the antler, gold cups and jade plates.
The Zenghouyi Chime Bells are the most historically important relics. The complete set includes 65 bells hanging on a three-tiered rack weighing over 2,000 kilograms. On the bells are gold-plated inscriptions about music. Each bell can emit two tones. After over 1,000 years, the bells still sound perfect, ready to play melodies local and foreign, classic and modern.
The Sword of Gou Jian, a king of Yue Kingdom, and the spear of Fu Chai, a king of Wu Kingdom, are both over 2,000 years old but still shiny and sharp. The lacquer wares used by ancient Chu people have exotic shapes and are truly marvelous.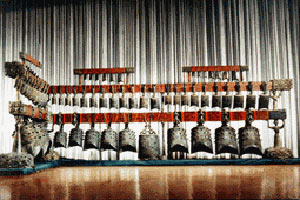 the Chime Bells