Cao Yu
(2005-01-27 15:35:28)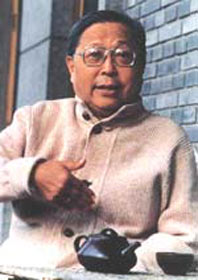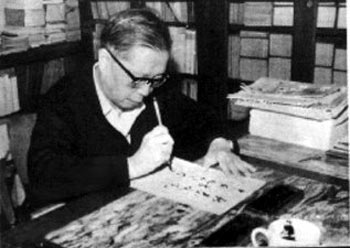 Cao Yu (1910-1996), originally named Wan Jiabao, was born in
Hubei
but was raised in
Tianjin
, where his father was an official. In 1922, he began to study at
Nankai
Middle School
, and became a very active member of Nankai New Troupe. Under the guide of Zhang Pengchun, a famous drama artist, he proved his brilliant talents in drama and his performance was warmly received by the audience.
He graduated from Nankai University in 1934 and, after a period of graduate study in drama at Tsinghua University, began to teach, at the same time he continued to write plays. After Liberation Cao Yu held a variety of official posts. His first play performed after the Cultural Revolution was Wang Zhaojun in 1979.
Cao Yu is regarded as the most remarkable of the modern Chinese dramatists in the first half of the 20th century. He worked briefly as a drama instructor, but it was the plays he wrote in the 1930s, especially the first two, Thunderstorm (1933) and Sunrise (1936) that brought him to prominence. Although heavily influenced by Western theatre, his plays are thoroughly Chinese in manner and material. Later plays, such as Wilderness and Peking Man consolidated his position as the leading contributor to a new, but as it turned out, short-lived form of theatre.
The drama Sunrise tells of the corruption and luxury of the rich and the suffering of the poor in old China. The plot revolves around Chen Balu, a high-class courtesan in old China in the 1930s. Chen enjoys a pleasure-seeking life in the city but in the end commits suicide in the face of her benefactor's bankruptcy, the death of a teenage girl she has tried to save from forced prostitution, and the departure of her childhood boyfriend. It's been adapted into a film by the Beijing Film Studio and music by the China Musical Center.
Cao Yu applied the writing skills of European modern theater into the creation of Chinese plays to show the reality of Chinese society, and was good at modeling dramatis personae, especially female characters, with distinctive character and disposition. He processed daily language into literature language, making the art of dialogue reach the perfection and his plays much readable and playable.
His works were not only published and staged at home and received warm welcome among domestic readers and audiences, but also were translated into Japanese, Russian, English and other languages and staged in many foreign countries.
source: chinaculture.org, Ministry of Culture, China