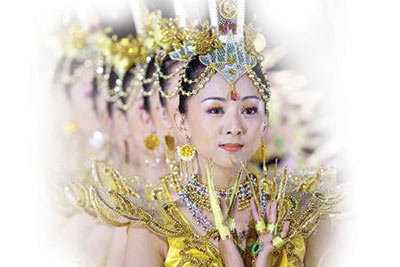 Source: thatschina.net
A hearing-impaired performer finds expression through dance
Many performance artists nervously anticipate the eruption of applause at the end of a show. In many cases, this is the first time artists can truly gauge the success of their efforts. Tai Lihua is no different in this way from any other performer, but there is one exception: She cannot hear the applause; she can only feel it.
As Tai Lihua was growing up, she had no idea that dance would become her career. For a hearing- impaired person, dance was a distant possibility.
"At two years old, I got sick and lost my hearing. I had no knowledge of music at the time, let alone dancing," recalls Tai, communicating through sign language. She became aware of her disability while playing a game with a group of friends." The game involved trying to recognize your partner by voice. My other friends happily exchanged places to find their partner, but I just stood still. From that point, I knew they had a sensory ability that I didn't have," says Tai.
Tai soon learned from her mother that her ears were just an ornament. However, supported by her parents' expectations, she didn't focus on her deficiency and others' contemptuous looks. She became stronger instead.
Dance: The heart's silent language
When she was seven years old, Tai Lihua enrolled in a primary school for deaf children in her hometown of Yichang, Hubei Province. There she discovered her passion for dance. "We had a special class," Tai says. "The teacher delivered the rhythm to us by pounding on a drum placed on the wooden floor. I was overwhelmed by the rhythmic vibrations and bent over to the floor, feeling it spread throughout my body." For the first time, Tai understood the meaning of rhythm.
Tai Lihua quickly found she had a flair for dancing. Although she didn't have any dance basics, the chemistry between dance and her was apparent from her first class. "As long as the rhythms were in my heart, I could dance anything," she says.
Everyday after school, Tai would squeeze in time to practice. Fearing that her mother would discover the bruises that often resulted from her training, she wore long pants even in summer. "It was my way of communicating with the world. No matter what happened, I wouldn't, and still won't, give up dancing," says Tai. "In my mind, dance is a visible, colorful embodiment of music. I can express myself through dancing," she continues.
The Spirit of the Peacock
"Among all the dances I have ever performed, my favorite one," shares Tai, "is 'The Spirit of the Peacock'," which was choreographed and first performed by Yang Liping in 1986. "I was enthralled by her performance when I watched it on TV, and I couldn't help mimicking her." Unexpectedly, it was this dance, which had already brought Yang fame that also changed Tai's life.
In 1991, the Hubei Province Disabled People Association scheduled a performance in Japan, and with them 15-year-old Tai arrived in Beijing. She was told that a few directors from the China Disabled People's Performing Troupe wanted to evaluate her dancing ability. Tai chose to dance "The Spirit of the Peacock" which she had been practicing repeatedly.
By the time she had finished, everyone had surrendered to her riveting performance. "By reading their lips, I knew I had passed their exam," says Tai. Though she knew this was an opportunity to fulfill her dreams, Tai also knew that her participation forecast the start of more tests. Tai joined the troupe, performing "The Spirit of the Peacock" as her signature dance.
"I perfected every act and inscribed every rhythm in my heart," says Tai. Working at a snail's pace, she managed to remember about 1,000 rhythms precisely as part of the eight-minute dance. Even Yang Liping, the original "Peacock" dancer, has said that, if faced with the same disability, she would not be able to perform the dance as well as Tai.
World Tour
Now, 28-year-old Tai has performed in over 30 countries. She is the only Chinese dancer to have performed at both Carnegie Hall in New York and La Scala in Milan. Wherever the troupe goes, she is the most welcomed performer.
"No matter where we arrive, we are warmly welcomed. When we step on the stage, what we eager to reveal is our heart, not just our art," Tai says.
Recognition of Tai's achievements in dance has come from around the world. In October 2002, at the Disabled People's International Conference in Japan, Tai was honored as the official representative of the world's disabled population. The following year, Tai's performance created a sensation in Brunei and was received by the Brunei queen.
In March 2003, the troupe headed for Poland, where Tai received an ovation for her "Peacock" dance. When she returned to the greenroom to change clothes, the MC followed and told her that the entire audience, including the Polish president and his wife, were still applauding and wished she would out again to meet them. As she had already changed clothes for next performance, the MC had to return and told the audience that the performer was hearing-impaired and couldn't hear their applause. "I was told that many of the people present cried when they learned that I couldn't hear their applause," recalls Tai, who believes that the audience's tears were not only for her, but also for the world's 600 million disabled people.
The honors Tai has received over her career have never satisfied her longing to take part in a performance created entirely by artists with disabilities. "I crave to perform a dance totally choreographed by disabled people, not just the movements, but the music as well. I know there are many disabled people who have talents in the arts. There should be a stage for them," says Tai. In September, Tai came close to realizing this wish, performing in the "Thousand-Hand Bodhisattva" dance with nineteen other hearing-impaired women at the closing ceremonies of the Athens Paralympic Games.
Another love discovered
Last year, Tai ended seven years of courtship and married a computer engineer named Li Chun.
The couple met when Tai went to visit a relative who happened not to be in. While she was deciding whether to return home or continue waiting, a young man next door invited her to rest at his home. They talked a whole afternoon, writing on a piece of paper.
Li told Tai that her hearing deficiency is not obstacle to their relationship. Yet for Tai, being with Li was a challenge. Li was not discouraged by her dodging or by opposition from his own family and continued his pursuit. Faced with Li's devotion, Tai couldn't escape any more.
One night, she invited him to see her perform. She had never told him that she could dance. While on stage, she saw tears in his eyes. At that point, they understood that their love was worthy.
No regrets
When asked if she has any regrets or bitterness over her disability, Tai seems puzzled. "Why must people keep bitter memories? I have not forgotten them intentionally, but I never took them to heart."
"You cannot choose what life you will have," Tai says, her fingers dancing, "but you can choose your outlook towards life."