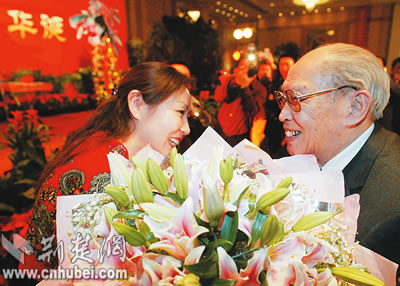 Qiu Fazu, male, Han nationality, is the senior Academician of the Chinese Academy of Sciences.
Qiu is the founder of China's organ transplantation program. He has specialized surgical medical treatment, teaching and scientific research for the past 60 years. Qiu has published over 200 medical dissertations and compiled over 40 medical teaching books. He has made several academic achievements in terms of surgery, neurosurgery, urological surgery and orthopedics. Qiu has also served a member of the 4th CPPCC National Committee and as a deputy to the 4th through the 7th NPC.
Every Chinese doctor knows the name Qiu Fazu, for they read his books during their five-year education in medical universities. The versatile surgeon who created "Qiu style" surgery is not only highly skilled at surgery. He also risked his life saving more than 40 Jewish prisoners during WWII and therefore was called "Chinese doctor" by the Jews. After the war the German government conferred him "national grand cross medal", making him the only Asian with the honor.
Facing the Nazis, Qu Fazu, acting as surgeon-in-charge in Germany in 1945 saved over 40 Jewish prisoners who were on the brink of death with his medical skills, intelligence and courage. After that Qiu, along with doctors and nurses who assisted him saving the Jews made a "gentlemen's agreement", deciding to "cover it up forever". The heroic deed of the "Chinese miracle-working doctor" was not known by public until it is reported dozens of years after the war.
Now 91-year-old Qiu Fazu and his German wife reside in Wuhan, central China's Hubei Province. The highly respected surgeon leads an extremely simple life in a house of only 50 sq. meters. He has donated all his life's savings of 1.5 mln yuan to set up award for young surgeon scientists.